Karie AB, Fully Washed, Kenya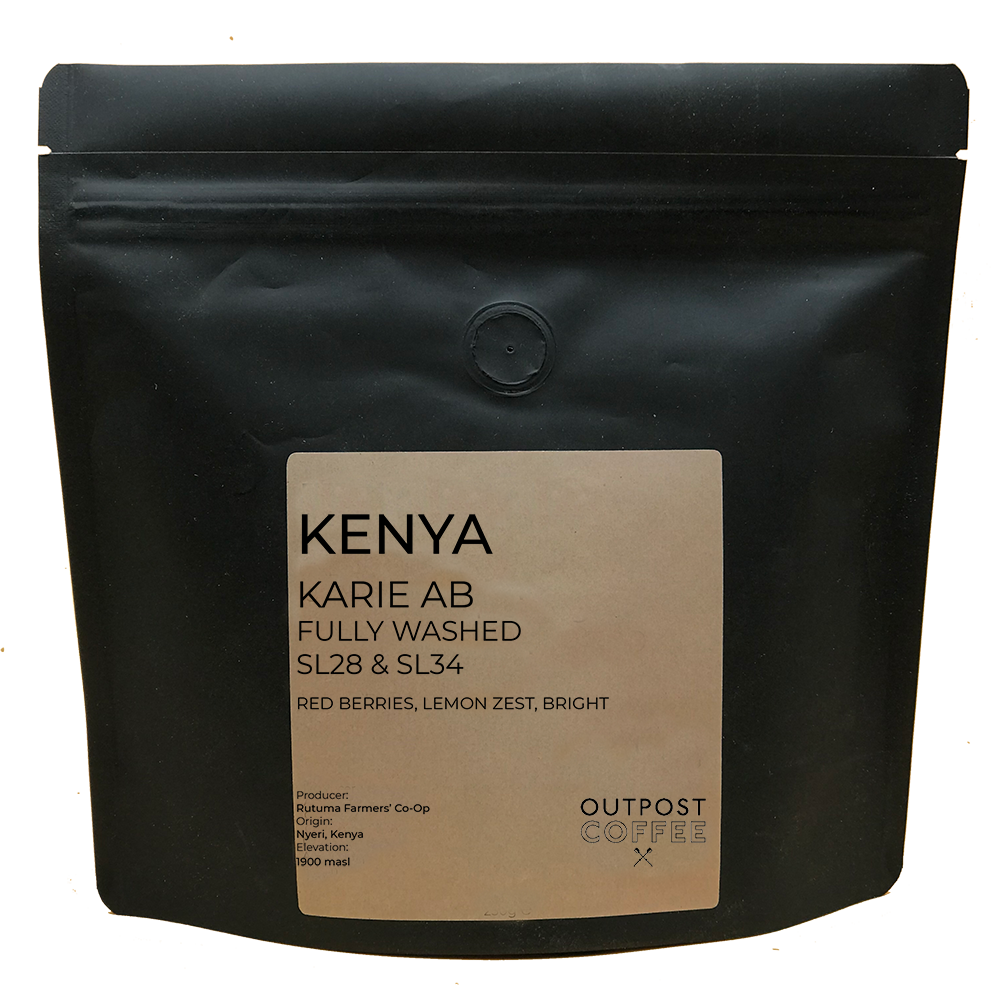 Karie AB, Fully Washed, Kenya
Raspberries, red berries, red currants, lemon zest. Spicy and sweet.
Process: Fully Washed
Cultivars: SL28 & SL34
Producer: Rutuma Farmers' Cooperative Society
Origin: Nyeri, Kenya
Elevation: 1900 masl
Origin: Karie
Rutuma Farmers' Cooperative Society
BACKGROUND
Karie was established at 1963 under Mathira FCS and which later was merged into Rutuma fcs. The Rutuma FCS Cooperative Society was established in 1995 after the split of the Mathira FCS, which itself had 11 wet mills.
In 2005, Ruthanga, Tumutumu and Marua farmers' cooperative societies merged and formed Rutuma Amalgamated FCS Limited which was registered on January 5th, 2005.
The various societies joining together already had existing community wet mills, which is how the society currently operates seven wet mills – namely, Ruthagati, Karie, Marua, Ngandu, Githima, Kianjogu and Ndurutu – and boasts an overall annual production of around 330 tonnes of green coffee annually.
LOCATION
The factory is located near the town of Karatina, Kirimukuya location,Thaithi sublocation in Nyeri County. Karie has 800 registered members that actively deliver coffee in any given year. Amongst the members are promoter farmers who are trained to teach small scale farmer members Good Agricultural Practices (GAPS).
This extension service has an immediately positive impact on coffee quality from the mill, as farmers emerge from trainings with a better understanding of the impact of fertilization, pruning and quality-driven harvest techniques on the price that their coffee receives at auction and with direct buyers.
SOILS AND CLIMATE
Karie Coffee Factory is dressed with red-volcanic soil that infuses it with all the mineral and organic goodness necessary for optimum production. It experiences an annual rainfall of 11,00mm at 1,900m above sea level. In addition it enjoys cool temperatures of 16-26°C.
PROCESSING
Rutuma Farmers' Cooperative Society operates several factories on and around the southern slopes of Mt. Kenya, including the Karie factory. Most of the farmer members grow SL-28 and SL-34 varieties in rich volcanic soil.
Washing
Coffee is delivered fresh directly after being harvested, and is depulped before being fermented (typically overnight) and washed using fresh water.
Drying
The coffee is dried on raised beds under full sun, turned and sorted constantly during the drying process for quality.
PRE-FINANCING FARMERS
From funds set aside from the previous year's harvest, members of the cooperative can access pre-financing for school fees, access to farm inputs and funds for emergency needs.
The factory is receiving assistance from a field partner- Coffee Management Services (CMS).
The long term goal is to increase coffee production through farmer training, ready access to inputs, Good Agricultural Practice seminars, and providing the most current printed materials on sustainable farming. By paying the producers some of the highest returns for their coffee this objective becomes more possible.
Dorman also strongly believes in establishing a transparent, trust based relationship with smallholder farmers, helping to support sustained industry growth throughout the country, and continuing to elevate the standards of quality coffee produced in Kenya.
SUSTAINABLE FARMING
In line with the rising awareness on the need to conserve the environment, the factory has dug the waste water soak pits away from the water source where the waste water is allowed to soak in back to the soil. Currently the factory does not engage in waste water treatment. Additionally the society encourages its members to plant trees on their farms.
MANAGEMENT
Karie Coffee factory is run by a factory manager who oversees all activities within the factory. Together with other staff members they carry out duties such as weighing coffee, selection and grading of coffee, paying farmers and addressing farmers' complaints.
ECOLOGY
In addition to coffee, common crops grown are banana and maize. Grevillea or macadamia trees are also planted to provide shade to the growing coffee trees.
WELFARE
Currently the factory offers farm inputs on credit and cash advances to farmers as incentives