Mokonisa, Black Honey, Ethiopia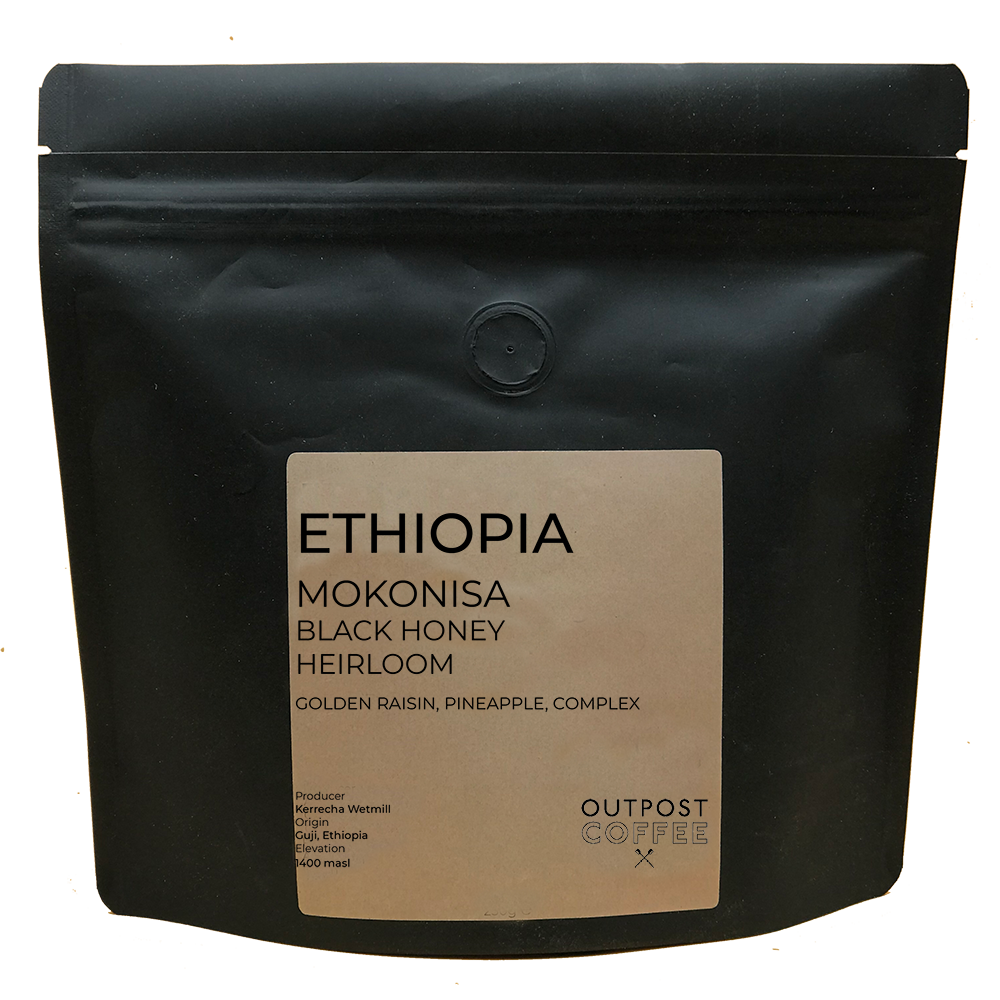 Origin: Kelenso Mokonisa washing station
Kerrecha smallholders
Privately owned communal wetmill in Kerrecha – Mokanisa by Israel Degfa. They are collecting and buying cherries from various smallholders. Israel is putting a lot of time and effort in to increased quality and better preparation on he's washing stations.
They generally do lot separation based on 150 bags of parchment, equalt to 100 bags of greens.
Mokanisa means the stongest tree in Oromifa.
The farmers:
Some hundreds smallholder farmers delivering tiny amounts of cherries daily to the wet miller.
On average farmers are having a farm size of less than 1 hectares. Most coffees are organic by default. Organic compost is common, pruning less common. A farmer can typically have less than 1500 trees pr hectar, and 1 tree is typically producing cherries equal to less than 100 - 200 grams of green coffee.
Cultivars:
A mix of local improved variety's like Certo and local Wolisho . Such as native coffee of forest origin transferred to family smallholder plots. The varieties are referred to collectively as Ethiopian Heirloom, which is a myriad of local native Typica hybrids and new improved varietals based on the old strains.
Production process honey:
The cherries are soaked in water to remove floaters before hand-sorting. After sorting the coffees are depulped before they get graded by density in the channels of the traditional Agarde disc pulper. It's graded in to 3 grades by density where only the first grades from the denser beans goes to Honey production. After pulping and grading they still have all the mucilage left. This would be referred to as black honey in e.g. Costa Rica. They get spread out in a medium thick layer in the sun and dried slowly over the next few days without to much movement. They get covered up by night. After the first days they start to move the «sticky» parchment and crack it up so that every single bean is not sticking to another bean. Its dried about 20 days in sun on raised beds. They are sorting the defects during the drying period.
Production process (washed):
Pulper: Traditional Agarde disc pulper
Fermentation: 24-72 hours wet.
Washed and graded in channels: Yes
Soaking: about 6 Hours in clean water.
Drying time: 9-12 days
Whole ripe cherries are hand sorted for unripes and overripes by the farmers before they go into production. They are pulped by a disk pulper and graded in the pulper by density: The parchment is then fermented under water for about 48 hours, depending on the weather conditions. After which graded in the washing channels by water flow that separates the coffee by density. Its then soaked 6 hrs in fresh, clean water before it's moved to the drying tables
Drying:
Skin drying the first hours unders shade. The parchments is dried in the sun for about 12 - 15 days, depending on the weather conditions, on African drying beds. Coffees are covered in shade nets during midday and at night.
Production process naturals:
Soil:
Red brown, fertile and well drained
Israel Degfa is a young business man in Ethiopia with a sure and steady focus. He owns thirteen washing stations and a farm, across the South and South West of Ethiopia. In previous years the production at these washing stations has been focused on volume but over the last years Israel has shifted his focus, and is working on the quality of processing across his washing stations as priority. It was this shift in focus that caused Israel to look for different ways to market his coffees, ways that would facilitate and value his new emphasis on quality. It was from this point that we began to work with Israel, visiting his washing stations and learning about his business, we also began to know him through this process. Through this relationship we have been able to cup through coffees processed by Israel's washing stations with him in our lab in Addis, and with the team back here in Oslo and share what we value in the cup and the kind of profiles we are looking for. He has also given us a lot of scope to access his coffees and take sample material for assessment, as well as permitting our specific instructions on milling prep for the lots we purchased from him.
Many of tIsrael's washing stations are great just because of the location and altitude etc, but he is also investing in better systems and protocols in many of them. He has invested in flotations systems for cherries and systematically separate some of the coffees for better performance on site. These coffees are taken better care of by an assigned quality team. We are also buying improved naturals, honey coffees, and shade dried coffees from these washing stations. We have four washing stations where he is now certifying the producers and giving them a second payment. Based on the premiums Israel is also investing in schools in several of the local communities.